Leaders of JGL and representatives of the creditor, the Croatian Bank for Reconstruction and Development (HBOR), visited the construction site of the Integra 2020 project today.
This investment, worth nearly HRK 375m, will integrate the company's development, production, and storage capacities, and encompass three units – research and development, commercial production, and logistics centre.
– HBOR has successfully supported us in capital investments and export activities for many years, recognising us as a company with an international vision, so this is an opportunity to thank them for their strong partnership and cooperation. After the investment support in JGL Pharma Valley, Integra 2020 was mostly financed by a long-term loan of HRK 280m from HBOR, says Mislav Vučić, CEO of JGL.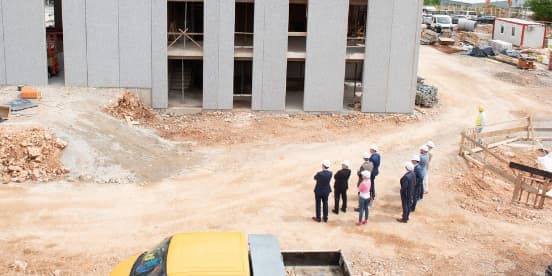 The new investment project will enable the company to increase its capacity for sterile production by as much as 60 per cent and significantly improve the company's development and technological capabilities and its global competitiveness for further international growth in the ten-year planning horizon.
– JGL is a crown jewel of the Croatian economy, a company that has shown that domestic businesses can be technological innovators and strong exporters to international markets, in an industry that requires highly sophisticated products. I am pleased that HBOR is part of JGL's growth and development. I am certain that we will continue to cooperate with JGL and provide support for their successful future endeavours through loans and export insurance, said HBOR Board member Hrvoje Čuvalo during his visit.
– The Croatian government and HBOR play a vital role in stimulating exporters and manufacturing companies with the aim of strengthening the competitiveness of the Croatian economy. I am proud to say that despite the crisis, we at JGL are successfully continuing with investments in our future and making further strides on the global health market. It is especially important that by developing new research and development capacities, the Integra 2020 project will enable even stronger networking with the science and education sectors and strengthen the platform for further growth of our country in the field of pharmaceutical and biotechnological development, says Ivo Usmiani, Chair of JGL's Board of Directors.